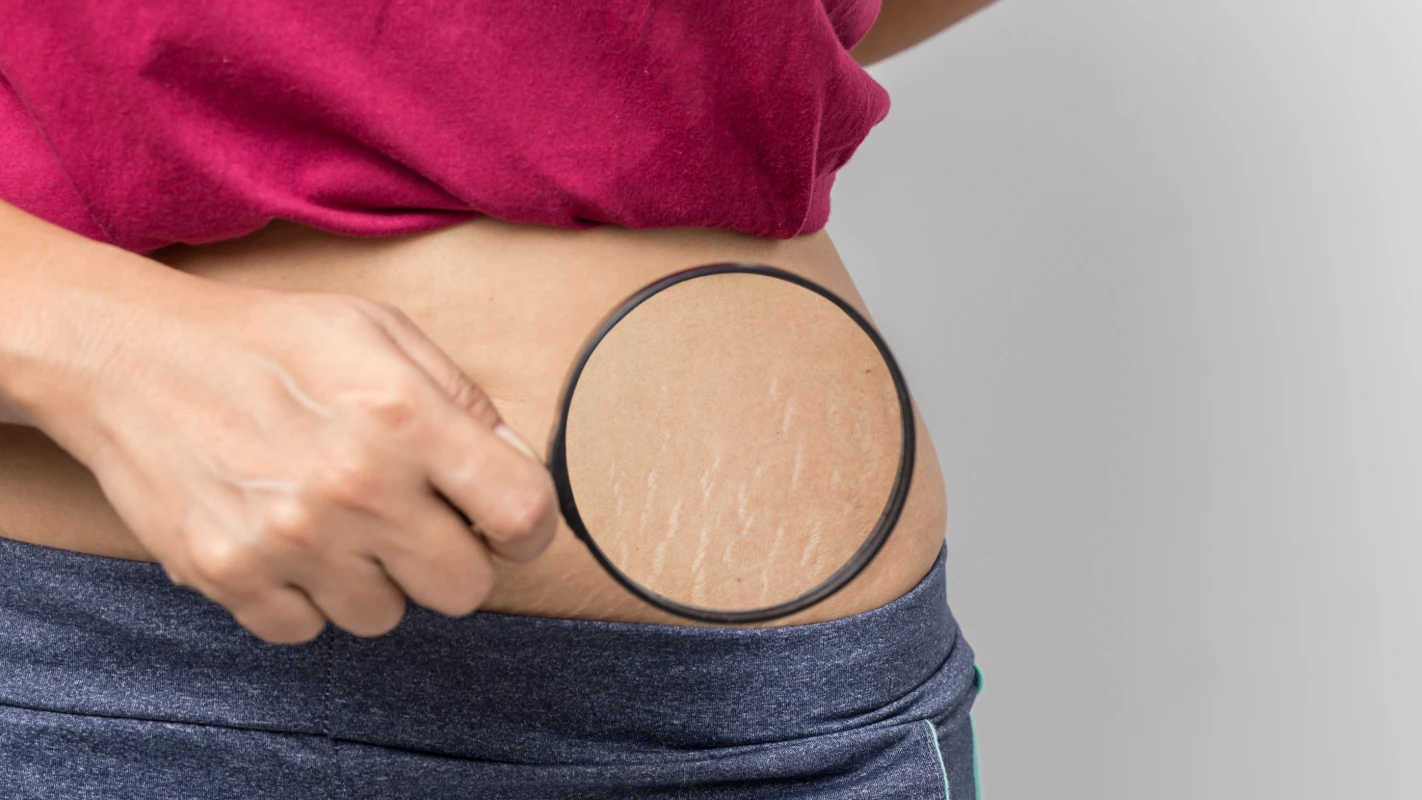 Laser Stretch Mark Improvement Tacoma
Stretch marks are scars that occur when your skin shrinks or stretches quickly. The sudden change results in the elastin and collagen that support your skin to rupture. As the skin heals, stretch marks often appear.
Not everyone will develop stretch marks. Changing hormone levels are believed to play a role in their development. You may also be more likely to develop stretch marks if other people in your family have in the past.
While this is true, there are options to reduce their appearance and, in some cases, eliminate them completely.
Non-surgical stretch mark improvement in Tacoma
You can find several non-surgical stretch mark improvement methods to consider. While creams and exercises may help, another option is Virtual RF, which is a minimally invasive treatment designed to combat fine lines, wrinkles, and unwanted scars like stretch marks. The treatment also tightens the skin without requiring any extensive downtime.
Types of treatments we offer
We offer state-of-the-art Virtue RF Microneedling treatment
Lumenis ResurFX Laser
The latest in non-ablative, fractional laser technology helps to improve skin discoloration, acne scars, stretch marks, wrinkles and more. Non-ablative means it does not destroy or ablate all of the skin cells in the area being treated and fractional means it is only affecting a fraction of the skin. The benefit to this is that we can get fantastic results with minimal recovery time.
What kind of stretch marks can be improved?
With our microneedling treatment, it is possible to treat stretch marks on the following:
Breasts
Abdominal wall
Buttocks
Upper arms
Thighs
We can evaluate your stretch marks and let you know how well the treatment option will work for you.
RF microneedling vs laser
The biggest difference between microneedling and laser treatments is how they work. Lasers use light energy. This lets the lasers target a specific location on the skin without causing damage to the unaffected tissue nearby. It's an extremely selective treatment.
Microneedling is a mechanical method that is used to create thousands of tiny channels over the treatment area that force the skin to start healing. The results aren't selective to a certain issue, but you can see improvement in many problems thanks to skin turnover and collagen regeneration.
How to prepare
Avoid sun 24 hours before
No retinoids or acid-based products
Reduce/remove blood-thinning medications
If you have scheduled a microneedling treatment, there are a few things you should do to prepare your skin. The first step is to avoid direct exposure to the sun for a minimum of 24 hours before the procedure unless you are wearing a strong SPF to help protect your skin. Extended sun exposure, including the tanning bed, can cause irritation during the treatment.
You should also stop using certain skincare products, like retinoids and any acid-based products like salicylic acid, glycolic acid, and azelaic acid. While these can benefit your skin's appearance and health, they should not be used immediately before or after the microneedle treatment if you want to avoid over-drying or skin irritation.
If you take any type of blood-thinning medication, it's a good idea to stop taking it temporarily for three days before your treatment.
Preparation for the Day of Your Treatment
Nothing on the area – On the day of your scheduled appointment, make sure to arrive at the facility with no products on the area to be treated. This includes serums, perfumes, or lotions.
If you have sensitive skin – take Tylenol approximately one hour before the procedure. This will help reduce any discomfort caused by the treatment process. You can also opt for the numbing treatment provided by our team before your appointment to ensure your comfort.
How long does it take?
In most cases, the treatment will be administered quickly. However, the exact amount of time for the treatment varies based on the area being treated. For example, treating a large area of stretch marks on your stomach or thighs will take longer than a smaller area on your arms. You can talk to our team for a more specific estimate about how long your treatment will take.
What to expect after treatment
Our treatment is combined with sheet mask technology. This helps to soothe your skin after treatment while eliminating redness.
One of the best and most appealing aspects of our treatment is that there's no extended downtime. You may have some redness for several hours, but your skin will be immediately soothed with our post-care mask and regimen, which minimizes any side effects you may feel with other treatment methods.
How many treatments do I need?
We operate on a "good, better, best model." This means that after one treatment, you will see good results. However, if you want to achieve superior results, we recommend a series of treatments spaced out 4 to 6 weeks apart – all based on your skin goals. Also, if you want to maintain the results, you should seek additional treatment every 6 months.
Does RF microneedling permanently improve stretch marks?
In some situations, the results of this treatment will be permanent. Since the collagen produced by this treatment is temporary, the old collagen that resulted in the stretchmarks initially may be flattened or broken down by the treatment. This can result in permanent results; however, each person is different, and there is no guarantee of this.
How much does laser hair removal cost?
Pricing for this treatment is dependent on the area treated. Packages and payment plans are available that will fit into most people's budgets. Our staff will discuss this with you during your initial consultation. More than likely multiple treatments will be required to achieve the desired results.
Is microneedling right for your stretch marks?
Our microneedling procedure for stretch marks is right for anyone who is dealing with stretch marks or other scars they want to eliminate. We consider it a truly ageless procedure. It can be used as a corrective and preventative treatment for people of all ages and individuals with light to dark skin pigments.
Hours
Monday: Closed
Tuesday: 10:00am – 7:00pm
Wednesday: 10:00am – 7:00pm
Thursday: 10:00am – 7:00pm
Friday: 9:00am – 5:00pm
Saturday: 9:00am – 5:00pm
Sunday: Closed