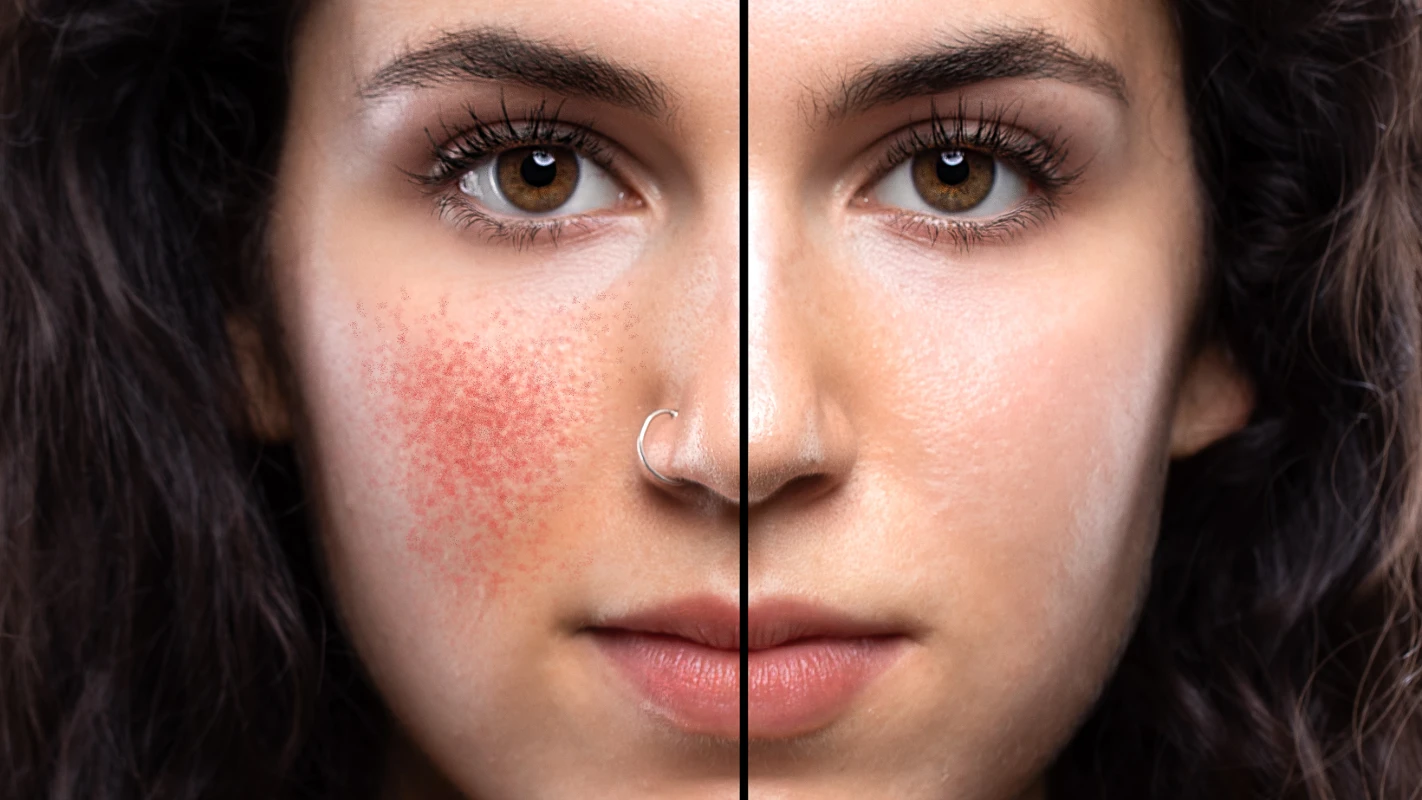 Rosacea Laser Treatment
You can find several medications available for treating rosacea. However, medication alone can't treat or eliminate all the symptoms associated with this condition, especially flushing and redness or the skin thickening around the nose. 
If you have struggled with these symptoms, rosacea laser treatment Tacoma may be a smart option. In fact, it's provided dramatic results for some who have these hard-to-treat symptoms. 
Professional rosacea treatment in Tacoma
While different types of lasers can be used for treating a red rosacea complexion, you'll find that when you call us for treatment, services are administered by a professionally trained and experienced esthetician, and only the highest-quality equipment is used. Our goal is to ensure the best possible results with your treatment, regardless of how severe it is. 
Types of laser treatments we use on rosacea
We use two basic types of laser treatments for cases of rosacea. These include:
Lumenis ResurFX Laser
The latest in non-ablative, fractional laser technology helps to improve skin discoloration, acne scars, stretch marks, wrinkles and more. Non-ablative means it does not destroy or ablate all of the skin cells in the area being treated and fractional means it is only affecting a fraction of the skin. The benefit to this is that we can get fantastic results with minimal recovery time.
Lumenis M22 IPL
We are excited to offer you the best in IPL laser treatments with our state of the art M22 laser from Lumenis. One of the latest and most powerful devices in the field of dermatology. The M22 IPL laser combines pulsed light and laser wavelengths to provide skin resurfacing solutions. With its unique interchangeable filters can target Age and Sun spots, Uneven texture and skin tone, Acne and Acne scars, Rosacea and more.
Is laser treatment good for rosacea?
Lasers are considered an effective treatment option for removing persistent facial redness and visible blood vessels. With this treatment, wavelengths of powerful light target and eliminate blood vessels almost completely painlessly.
The build-up of heat produced by the lasers will burn and seal the walls of the blood vessels while making sure that the nearby tissue remains unharmed. When the visible blood vessels disappear, new ones can develop in the future.
What areas can be treated?
You can undergo laser treatment for rosacea almost anywhere it occurs. The most common parts of the body that are affected by this condition include:
Chin
Cheeks
Nose
Forehead
However, the condition can come and go, and it may change where flare-ups occur from time to time. The laser treatments we offer are effective in all these areas and can provide the painless, quick results you want.
How to prepare
A consultation for this treatment is required with our master esthetician and our medical director to decide if you are a good candidate to partake in this type of treatment. During this appointment pre and post care recommendations will be given. It is not recommended to have any sun exposure before, or immediately after this treatment.
How long does it take?
The actual laser treatment to help alleviate rosacea symptoms is relatively quick. In most cases, the session will last under 20 minutes. You should also be able to go back to your normal activities on the same day of treatment.
What to expect after treatment
The results you will see from laser treatment vary. Most patients experience a 50% to 70%reduction in the blood vessels present after about three treatments.
Some patients see a 100% reduction in skin redness.
How many laser treatments do I need?
We recommend two to four treatments to achieve the best results. However, the number of treatments is unique to your condition and how well it responds to initial sessions. We will make sure to space out the treatments so they are done every four weeks.
Does rosacea come back after laser treatment?
This question is subjective. Some people will not have issues with rosacea for three to five years after a series of sessions. However, others experience the symptoms sooner than this. In most cases, though, the treated blood vessels won't reappear.
How much does it cost to have laser treatment for rosacea?
It's worth noting that laser treatment does require you to invest. While this is true, it may be worth the cost if you have dealt with rosacea symptoms for years. We  offer a variety of payment options and packages to fit most budgets. These will be discussed at your consultation.
Is laser treatment right for you?
If you want to achieve the best results with your laser treatment, it's important to communicate with your esthetician. They can help evaluate your condition and determine if this treatment is right for you.
While laser treatment for rosacea may not be effective for everyone, it has promising results and has been proven effective for multiple people.
If you are wondering if laser treatments will help eliminate the reddening, texture, and thickening skin caused by rosacea, contact us today. We can schedule an initial appointment to discuss your needs, goals, and conditions. Our goal is to help you get the beautiful, glowing skin you want and deserve.
Hours
Monday: Closed
Tuesday: 10:00am – 7:00pm
Wednesday: 10:00am – 7:00pm
Thursday: 10:00am – 7:00pm
Friday: 9:00am – 5:00pm
Saturday: 9:00am – 5:00pm
Sunday: Closed