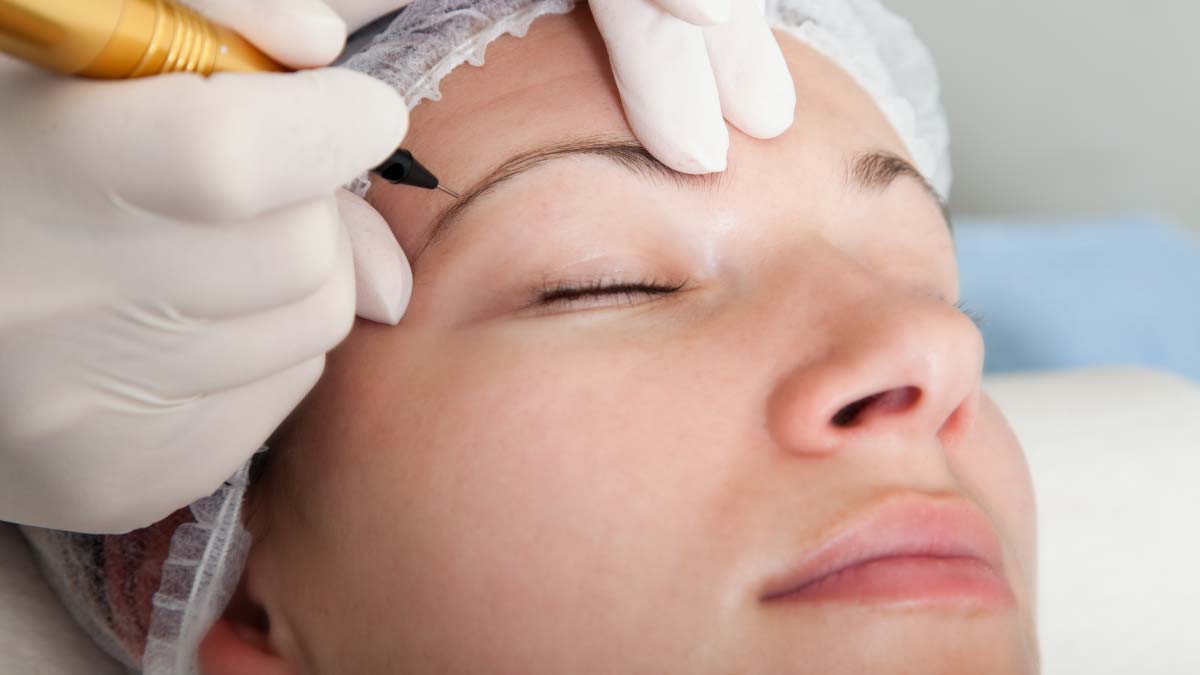 Permanent Makeup
Eye catching, beautiful, luscious – all adjectives that we strive for in our daily beauty routines. With Permanent Makeup you can save time putting on makeup, look fabulous all day every day and even look up to 10 years younger. We offer permanent makeup and touch ups for eyebrows, eyeliner, lip liner, full lips, areola and more. Our experienced technician treats each service on a case-by-case basis, matching the color, texture, and style to achieve your unique look.
Pricing & Appointments
Our state licensed, skilled permanent makeup artist uses a needle to inject cosmetic color into your dermis (the second, deeper layer of skin, under the epidermis) to achieve the same effect as daily makeup.
This procedure is similar to a tattoo, the pigment used however is specially formulated to be safe on the face and includes regulated ingredients to minimize color change.
The consistency of Permanent cosmetic color is thicker than tattoo ink therefore inhibiting the depth of the color into the dermis. As a result, you will find that over time the effects of this service will fade, requiring touch ups every few years.
Who will do this procedure?
It is the law in the State of Washington that permanent makeup and tattoo artists are licensed through the state, certified in bloodborne pathogens and insured. Our in house artist Susan has been performing permanent makeup procedures since 2005. She is also a licensed Esthetician and has a BA in fine art. The combination of these credentials enable her to create the perfect look, style and color to suit your face shape, in a safe, comfortable environment with as little discomfort as possible.
How long does permanent makeup last?
There are many factors that can affect the resilience of permanent makeup. External ailments such as consistent exposure to the sun may cause your makeup to fade more quickly. As will the use of strong exfoliating agents on your face such as glycolics or retinols. Our Permanent makeup artist will provide you with a world class service and follow up with advice to ensure you understand how to take optimum care of your make up procedure.
Permanent Makup in Tacoma
Eyebrows
Do you spend lots of time using an eyebrow pencil or powder to create that desired defined brow look?  Permanent eyebrow makeup is the way to go if you want to save time but have that fabulous brow definition all day everyday.

For women who deal with alopecia or some form of hair loss, eyebrow permanent makeup is  a perfect procedure to create the illusion of thicker, fuller brows.
Eyeliner
Cosmetics are a great means of self-expression but when it's Monday at 8AM and all you want to express is your need to be in work quickly, Permanent Makeup Eyeliner can help you save time and still look amazing.
Lips
When your lips stand out, all eyes in the room are on you whether you're smiling, talking or laughing. Permanent makeup for lips is a great way to avoid invasive procedures and create the amazing look that your lips are full and beautiful. This procedure defines your lips better rather than creating volume or puffiness, so you can skip the more expensive (and invasive) lip injection treatment. Permanent makeup lips are created with a wide range of pigment and cosmetic colors so contact us for the range that we have.
Freckles
A face with freckles can be adorable and charming especially when you're young. Permanent makeup freckles are trending and if you're in love with the look of freckles on the face but want to avoid the sun damage involved in getting freckles, consider getting it done as a service. Semi permanent makeup means they'll fade over a year or two while still giving you a youthful, adorable look.
Areola
The Areola is part of the breast. Breast reconstruction for cancer survivors may mean the removal of the nipple area. After reconstruction is complete areola tattooing can be performed to help give symmetry, color, enhance the shape and give a more natural look to the breasts. For breast cancer survivors, permanent makeup for areolas is a great way to boost your confidence and restore your self-image.
Hours
Monday: Closed
Tuesday: 10:00am – 7:00pm
Wednesday: 10:00am – 7:00pm
Thursday: 10:00am – 7:00pm
Friday: 9:00am – 5:00pm
Saturday: 9:00am – 5:00pm
Sunday: Closed